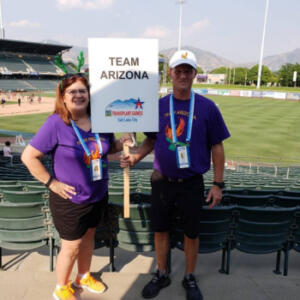 Videos from the 2020 Games
Training by and for transplant athletes!
This is a one-day Training Camp day for any transplant recipient or living donor. We lined up over 30 gold-medal transplant athletes trained in over 15 different sports from Arizona, Team USA, and around the world to help you prepare for the next national or international transplant games. As a virtual event, you can participate from the safety of your home. People from any fitness level, experienced or not, are welcome.
Registration available online September 1 through November 29, 2020.
$25 Registration Fee covers:
training sessions with amazing transplant athlete coaches
panel discussion about competing with a transplanted organ
2020 2nd annual Arizona Transplant Games t-shirt
The coaches will be sharing tips on how to prepare for your sport with fellow transplant athletes. The idea is to get motivated to participate in the Transplant Games of America next year in New Jersey or the World Transplant Games in 2023.  Some participants will have never participated in a Games and will learn the confidence needed to attend. Some participants will have been to a prior Games but would like to try a different sport. Some participants will want to work on their performance to win medals.  There will be something for everyone! Even the kids!
The training blocks will be in Zoom Rooms.  At the beginning of each 75 minute block, there will be a short welcome and introduction, and then participants will be put in their assigned blocks.  You can sign up for as many blocks during the day as you want.
This is a great opportunity for us all to work together towards our goal of education and public awareness of organ, eye and tissue donation and transplantation.