---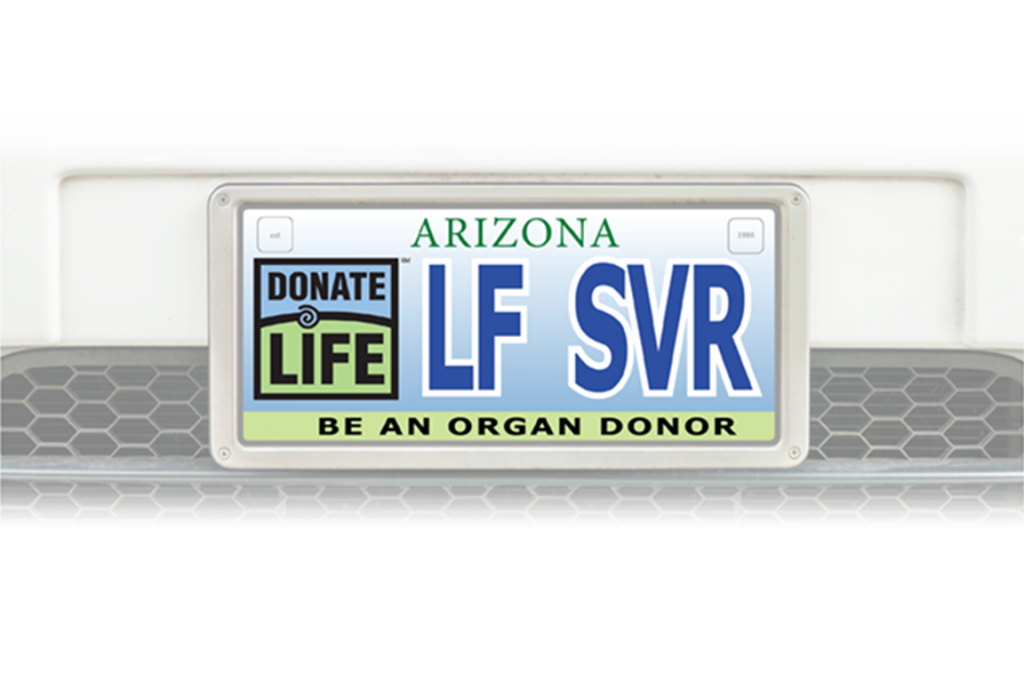 The Donate Life license plate highlights the need for more organ, tissue and eye donors. More than 2,400 Arizonans are waiting for a transplant. Any of us could suffer an injury or illness that requires a transplant, making the need for registered donors greater than ever before. Transplants offer patients a new chance at healthy and productive lives, returning them to their families, friends and communities.
For every $25 DonateLife Plate purchased $17 goes to Transplant Community Alliance, a local charity committed to improving the quality of life for those who have received the Gift of Life. Personalized plates are available for an additional $25. Vehicle owners can purchase the new plates at any MVD, Authorized Third Party office location, or online at ServiceArizona.com under Vehicle Registration Renewal.
In 2002, Bill Wohl and Leo Corbet, both heart recipients, along with Donor Network of Arizona and Arizona Coalition for Transplantation created the DonateLife license plate for Arizona vehicles. This was a perfect way for Arizonans to show their support for organ donation and create a revenue for our nonprofit to continue to support recipients and candidates.
Most drivers get the plate because they have a connection to transplant, are healthcare professionals or want to honor donors with a unique story. We would love to see your plate and hear your story.
If you need a plate, Log into your account at AZ MVD Now to order yours TODAY!
A Story…
Celebrating 20 years on the road, the DonateLife plate serves as a reminder to sign up as an organ, eye and tissue donor to help save the 2,400 Arizonans waiting for a life-saving organ transplant.  Every plate purchased provides $17 to Transplant Community Alliance, an Arizona charity that provided aid to over struggling 100 patients in 2020.
Read about how Robert Scanlan, a DonateLife plate owner and 3-time transplant recipient, recounts how donation changed his life:
"I was 55 years old and living the American Dream: a loving family; good health; a fine home in an up-scale suburb; and a thriving business.  Without notice my stomach expands to appear that I am eight months pregnant. My liver is diagnosed in complete failure. In just two weeks, an incredible surgeon and hospital staff perform a liver transplant with an organ donated by an unknown loving family.
My life is saved and I am grateful. Yet the losses are overwhelming. My wife Marie and I have lost our home, the business and all our savings. Perhaps scarier is the loss of my ability to perform basic childhood arithmetic. With lots of hard work, re-enforced by loving support from family and friends, a new and successful career is developed, which enables my return as a contributing member of the community.
Ten years later, my transplanted liver fails and I am again in the hospital ICU for months in hopes of a new transplant. At age 65 I receive second and third new organs, and once again my personal life is shredded through bankruptcy, as well as the new need to re-direct my life.
I now volunteer for Donate Life Arizona and the Transplant Community Alliance.  Both organizations are dedicated for over thirty years to the Arizona transplant community on a not-for-profit basis.  Donate Life is responsible for the registration of organ donors plus the successful recovery and allocation of available organs.
Your use of Donate Life automobile plates is of great support to both organizations and their beneficiaries. UPDATE YOUR PLATE!"