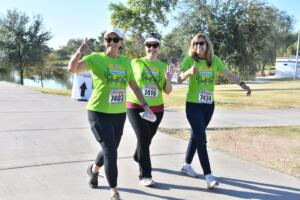 The Results are In …   Donor Dash is a Big Win
Our 2nd Annual Donor Dash took place on a perfect December morning. We had more than 200 runners and walkers ranging from 1 year old to 66 years old.  In addition, 20 virtual walkers/runners supported us from across the country. The field was filled with vendors selling great food items and merchandise ranging from candles to jewelry.
Several of our community partners were present to support us and continue the awareness and importance of organ donation and organ transplant.  Some of those partners included Donor Network of Arizona, Banner University, and Transplant Families.
The silent auction featured more than 40 packages featuring restaurant gift certificates, Aquarium Odyssey passes, comedy club tickets,
Alice Cooper, memorabilia, and crocheted blankets from our very own Linda Ozier.
We raised nearly $20,000 for our Living Assistance Fund, but the truly important part of this whole event is that we came together and supported each other in this unique community of ours. Transplant is not an easy journey.  To be successful, support is essential for the donor family, transplant recipient, and caregivers.  That is the purpose of TCA.  With this event, we hope to demonstrate the importance of community and provide an opportunity to bring together the families and community partners who build an Alliance special and unique to the community.
This event would not be possible without the Donor Dash Committee, who worked hard over the past 12 months to bring this event to life.  A huge thanks to committee members Tracy Wingo, Evie Strope, Lynn Stackrow, Diane Tovar, Ashley Siegel, Ben Wilson, Kathryn Crippen and Karen Matulis.  These individuals were joined by 25 volunteers on the day of the event to make Donor Dash a huge success.
Our sponsors and community partners are a critical part to
Donor Dash and our mission.  Thank you Mayo Clinic, Tempe South Rotary, Banner University Medical, Dignity Health, American Technology Specialists, Walgreens, Ryans' Pet Supply, and Reign Total Body Fuel. Their financial support will help further our mission in 2022.
Our community is filled with so many amazing individuals who support one another in ways that many may not fully understand. Tracy Wingo and her donor, Courtney Bullock, represent that special connection.  Their friendship began prior to the transplant and continues today.  The women support one another in many ways including their passion for running. The two ran together at Donor Dash furthering their bond while finishing top of their age group The ladies finished 2nd and 3rd places. Their bond and dedication are inspiring!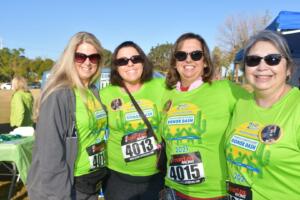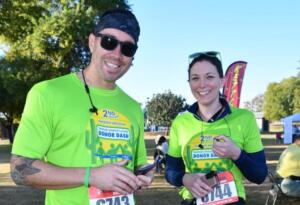 Commemorative Shirts Still Available! Click to Purchase