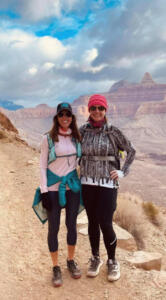 April is a special month for those of us in the transplant community as we celebrate National Donate Life month. It's a time to honor those individuals who have selfishly and willingly donated one or more organs to allow another to live a fuller life. We often hear success stories from transplant recipients that touch our hearts in many ways. This time we wanted to share a different perspective.  We wanted to hear a story about a living donor.
Courtney Bullock opened up about her journey as a living donor, why she chose to be a donor, the process, recovery and reflecting back. Often, organ donors remain anonymous or are not disclosed to the recipient, it is nice to have the chance to visit and discuss with Courtney about her kidney donation.
Courtney is a native Phoenician who lives here with her husband and their dog, Dixie. Her two grown children and all her immediate family including, parents, two sisters and their families also live in the Phoenix area, as well. Courtney has a very active lifestyle both with work and pleasure, she is a real estate agent and enjoys reading, crafting, shopping and running. It was through her love of running that she met Tracy Wingo, who would become her kidney recipient.
"It was a track workout that we used to do as a group where I met Tracy. We connected instantly and started running/traveling/adventuring together outside of the running group events."  As soon as Courtney saw a Facebook post about Tracy needing a kidney, she knew instantly and had no hesitation when she submitted the application to start the process for the donation evaluation. Her family, on the other hand, was a bit hesitant. They initially had questions about the process and recovery time but supported her decision 100 percent. Her family understands Courtney's immense desire to help others.
The process begins with submitting the application, then an evaluation test and the long wait of a couple months for the results from the transplant panel. The testing itself was not uncomfortable or hard, but it does take a commitment of time and juggling of appointments. Some of the tests she completed for her kidney donation included, blood draws, urine samples, 24 hour blood pressure monitoring, urine output, MRI, echocardiogram, and more. She completed meetings with counselors, doctors and her advocate. "They are very thorough with the testing and counseling process." She never felt any pressure to continue and that was reiterated to her throughout the process. This was reassuring to Courtney that she had the option to change her mind at any point, and no one would think less of her.
When asked what the surgery was like, Courtney said, "the surgery was easy for me. They did the entire thing laparoscopically and then removed the kidney through an incision well below my belly button." She also mentions that although being sore and a bit uncomfortable she was able to attend her sister's baby shower just three days post-surgery.  Overall recovery was easy for her, the hardest part was having to force herself to take down-time and allow herself to heal. Today, she feels great! "I am definitely not missing my kidney. My body functions just the same as before and I only have to be mindful about pain medication (like Ibuprofen) if I'm ever sick or sore." Courtney had no hesitations and was not concerned or afraid of the surgery even though this was very first operation. "I wanted to help Tracy, and I am so glad that I could!"
For those considering organ donation, Courtney would tell them, "if you have the opportunity to donate, do it." She feels it's life changing in a good way and a truly selfless act and nice knowing you can give someone their life back. Her life returned to normal shortly after donation, and doesn't often think about the entire experience because she doesn't feel any different. This is an opportunity to help improve or save another person's life and in return feeling their complete gratitude is all the appreciation she needs/ wants.
Tracy and Courtney have started a tradition to celebrate their 'kidneyversary' every year by doing something 'epic!' "It's become one of my favorite days of the year," says Courtney. So far, the 'epic' stuff they've done accomplished includes, a hike into the Grand Canyon to Phantom Ranch and back, a 100K bike ride together and this year they completed a 34 mile race near Las Vegas. With each 'epic' adventure Courtney and Tracy hope to spread the word about the impact and importance of living organ donation in person and on social media.
Courtney and Tracy will be sharing their story at the Music to Save a Life concert on May 20th in Dewey Arizona.  The concert will feature the Talbott Brothers.  If you are interested in attending, tickets can be purchased at HERE.