Kidney Recipient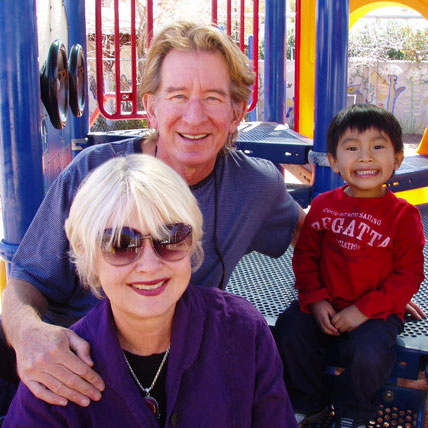 Andrew Bombeck – Andy is a kidney recipient of 11 years after receiving a live donated kidney from his wife Shari on April 11, 2003. He is a retired elementary school teacher after 30 years and now spends his time writing, playing tennis, playing guitar, and promoting organ donation by working with the New Life Society's Schools Program and volunteering with Donor Network of Arizona. He was on the board at the Arizona Kidney Foundation Board for 8 years and currently serves as a board member and has competed with Transplant Team Arizona in the Transplant Games since 2008. Andy lovingly admits he's in a losing battle trying to keep up with his 8-year old son, Michael.
Will you describe what your life was like before Transplant?
Over the years prior to my kidney transplant in 2003, my energy level was slowly declining. I was teaching elementary school at the time. Most teachers will agree that patience is the one thing that makes a good teacher. Because my health was declining, the two years leading up to my transplant in 2003 were difficult. I have to admit it made it very challenging to be the kind of teacher I had been, as my patience declined as well. I continued to do most things I had done prior transplant, but it was harder because my energy level was so low.
Please describe what waiting for the transplant was like.
Prior to my transplant, I was dating Shari who told me that if she was a match she would donate one of her kidneys to me. At the time, I was on transplant waiting list at Good Samaritan Hospital. After Shari was tested and confirmed to be a match, as you can imagine, I was more than ecstatic!

Will you share some of your dreams and fears while waiting for a transplant?
My greatest fear before my operation was not surviving the operation. Many people do not know it, but my mother had kidney failure and was also listed for a kidney transplant. In 1996, after waiting many years on a transplant list in Phoenix, my mother finally got "The Call" and received a cadaver kidney. Five days after her transplant she tragically and unexpectantly passed away. It was because of that, that I feared the actual operation more than I probably should have.
One day, I made a pact with God and promised that if I survived the operation I would attend church every Sunday; and I have kept that promise. One year after my transplant, in 2004, Shari and I got married and continue to remain "connected" in more ways than the "obvious" one.

How has your life changed after transplant?
My life dramatically changed on April 11, 2003, when I woke up in the recovery room at John Hopkins following my transplant.  I instantly felt I had regained all the energy that had been gradually declining over the years, prior to my transplant.  Like many recipients, I realized then more than ever, just how precious each and every day is and try hard to take advantage of that.  The first "big" thing that Shari and I decided to do in 2006 was adopt a six-month old boy from Guatemala named Michael. I always wanted kids but because I married late I never thought that would be possible.  Today I "pretend" to have the energy needed to keep up with a teenager, which prior to my transplant, would have been truly impossible.  Three years ago I retired from teaching and spend a lot of time playing tennis, writing and promoting organ donation.  I am a volunteer with the National Kidney Foundation of Arizona, Donor Network of Arizona, Transplant Team Arizona and Transplant Community Alliance.