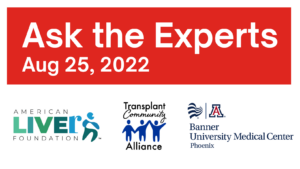 Don't miss the annual Ask the Experts event hosted by Banner University Medicine,
in collaboration with the American Liver Foundation and Transplant Community Alliance.
Welcome remarks by Dr Moises Nevah, Director of Hepatology for Transplant
Guest Speaker: Ivan L. Rivera, Program Manager, Benefits 2 Work Arizona "Social Security Income and Benefits: What it Means to You"
Banner Physician Panel Q&A (submit your questions when you RSVP)
August 25,2022
6:00pm PST
This educational session is meant for family, friends, and individuals who have been diagnosed with advanced liver disease. Please join us in a FREE opportunity to engage our expert panel of Physicians and Healthcare Professionals with questions about liver disease, liver cancer, and transplant.  The keynote speaker is Ivan Rivera, Ability 360, speaking on Social Security income and returning to work.
American Liver Foundation

Banner Transplant Institute

Transplant Community Alliance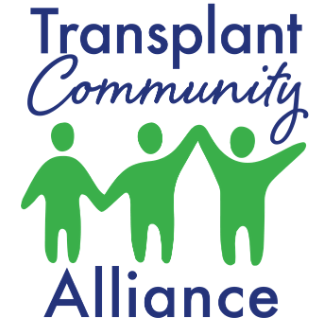 Ask the Expert 2021 Videos