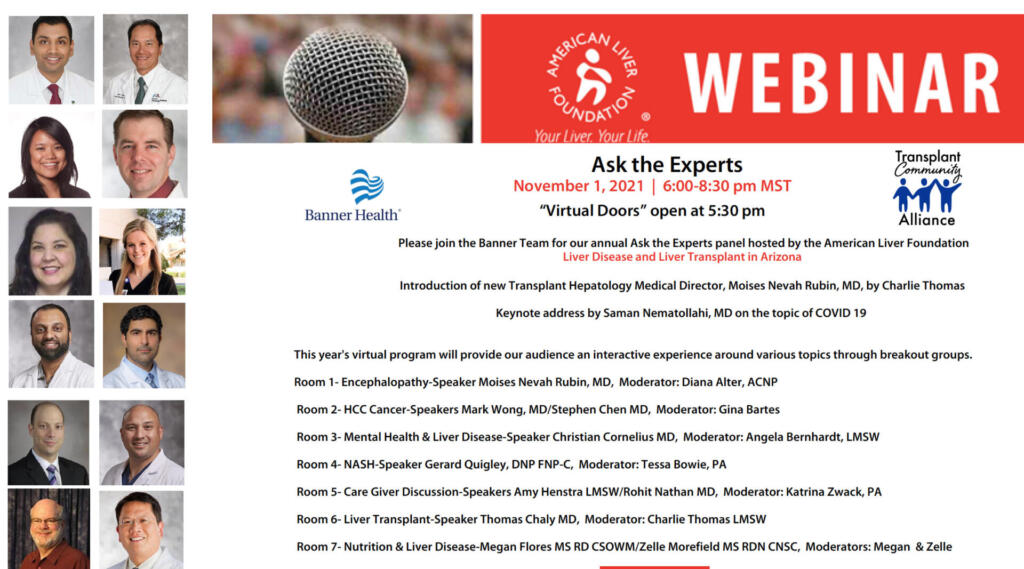 Welcome to the annual Ask the Experts event hosted by the American Liver Foundation and Banner University Medicine.
November 1, 2021
6:00pm PST/ "virtual" doors open at 5:30
This educational session is meant for family, friends, and individuals who have been diagnosed with advanced liver disease. Please join us in a FREE opportunity to engage our expert panel of Physicians and Healthcare Professionals with questions about liver disease, liver cancer, diet and nutrition, COVID-19 vaccines, and many more relevant topics.
Speakers and Topics
Keynote address by Moises Nevah Rubin, MD
COVID Concerns presented by Saman Nematollahi, MD
Q&A
Breakout sessions
Room 1 Encephalopathy
Speaker Moises Nevah Rubin MD
Moderator Lindsey Morrison
Speakers  Stephen Chen MD and Mark Wong MD
Room 3 Mental Health & Liver Disease
Speaker Christian Cornelius MD
Moderator Angela Bernhardt, LMSW
Speaker Gerard Quigley DNP FNP-C
Room 5 Care Giver Discussion
Speakers Amy Henstra LMSW and Rohit Nathan MD
Moderator Charlie Thomas LMSW
Room 7 Nutrition & Liver Disease
Megan Flores MS RD CSOWM and
Zelle Morefield MS RDN CNSC
American Liver Foundation

Banner Transplant Institute

Transplant Community Alliance