We recently traveled to Alexandria, VA which is situated on the Potomac River and within eyesight of Washington, DC. We were visiting Catherine's son, David, who is stationed at the Dahlgren Naval Base. This quaint town kept us close to David and offered a relaxing nightlife while also providing quick access into Washington, DC.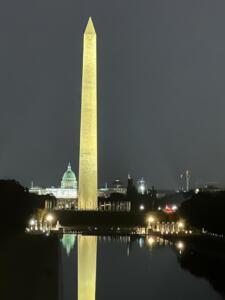 Alexandria is nationally recognized for its rich history and beautifully preserved 18th- and 19th-century architecture. It offers chef-driven  restaurants; a thriving boutique scene; vibrant arts and culture; and a welcoming, walkable lifestyle. We dined at Gatsby's Tavern which dates back to the late 1700s.
Walking into the Tavern's elegant colonial dining rooms was like walking back in time. Other notable diners included many of our forefathers George Washington, Thomas Jefferson, John Adams, James Madison & James Monroe. Gatsby's tavern was the center of economic, political, & social life in the late-18th and early-19th centuries.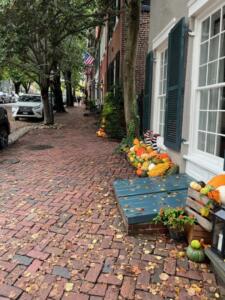 We also enjoyed a twilight city tour of the DC monuments and experienced an illuminated Lincoln Memorial, the Washington Monument, the White House, and many other landmarks. This was a truly unique look at the iconic monuments of Washington DC. I highly recommend this tour.
We were fortunate enough to get reservations from our Congressional Representative to tour the Capital building. We were able to visit the Senate Chamber, even though they were not in session. It's powerful to see the place where our elected officials do the important work of our country.
I know this travel blog highlights a destination much farther away than usual. But I wanted to share the splendor and sentiment that is felt when standing in the shadows of monuments that represent our nation's history.