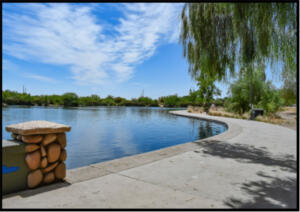 The Riparian Preserve at Water Ranch, located in Gilbert, is a 110-acre preserve that provides a unique opportunity for bird watching, walking, and enjoying the great outdoors.
The preserve is an urban wetland habitat that provides refuge for 200 different species of birds and waterfowl.  In addition to riparians, bird watchers have spotted owls, herons, geese, shorebirds, and ducks.
The park offers miles of paved, flat walking trails. The trails that are not paved have a well-maintained level and smooth surface. There is a lot to explore.  This open-ended park allows you to spend as much or as little time as you please.
One of my favorite things to do here is fish.  The fishing lake at Water Ranch is stocked with Rainbow Trout, Largemouth Bass, Sunfish, and Channel Fish.  Only barbless hooks are allowed and some species are catch and release only, so check the website for details.
There are also guided tours and walks.  One of particular interest is the Family Bird Walks.  You can enjoy the free bird walks the third Saturday, running October through March, from 8:00 AM to 12:00 PM, leaving from the Dragonfly Ramada. They will loan you binoculars and send small groups out with an expert birder for short walks. This is a nice way to enjoy the beautiful wildlife of the Preserve and learn about birdwatching and bird identification.
---
All activities mentioned above are free!  The park is open daily from sunrise to sunset and is located at 2757 E. Guadalupe Road, Gilbert, AZ 85234 (Guadalupe and Greenfield, just west of Higley). For more information visit: https://www.gilbertaz.gov/depa…
If you go, send us a picture of you enjoying the day!