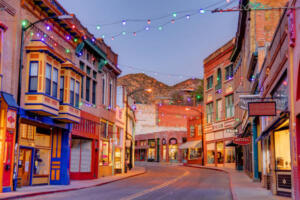 Bisbee, Arizona feels like a place captured in time. It's well-preserved early-twentieth-century downtown draws visitors from around the world, who appreciate its historic architecture, it's welcoming, creative spirit and cool climate. This quaint town is full of history that includes copper mining, hauntings, music and prohibition style nightlife.
Located about 90 miles southeast of Tucson and nestled in the Mule Mountains, Bisbee's summer time temps hover in the high 80s. Enough said? However, there is so much more to enjoy in Bisbee. Starting with the types of accommodations offered, range from historic hotels to unique rentals that once were miners' shacks. The Copper Queen Hotel is a landmark hotel that boasts old world charm and class. The hotel has been restored of its former Victoria-era elegance and equipped with all the modern-day conveniences. Or, if you want to go a little more rustic, explore the old miners shacks and boarding houses that have been converted into mini luxury hideaways.
During the day venture into the Queen Mine. You'll be outfitted in a hard hat, miners' lamp and yellow slicker before heading underground and back in time. The tour guides, who are retired miners, will lead you1,500 feet into the mine and recount the days of mining with some of their own personal stories.
The town, lives up to its reputation of being one of the most haunted towns in Arizona. You'll be in for a real treat when you visit the Bisbee Séance Room and host Magic Kenny Bang Bang. He will whisk you back in time, in his cozy Victorian parlor for an intimate, one hour magic show that recounts the mysterious history of Bisbee. If you are super gutsy, book hotel room #315 in the Copper Queen Hotel. This hotel room has been featured on Ghost Hunters and Ghost Adventures, to this day it's still haunted by Julia Lowell who hung herself in room 315 after an unrequited love affair.
This is just a sampling of the historic fun there is in Bisbee. Let us know that you went by sending a us a photo of your trip.