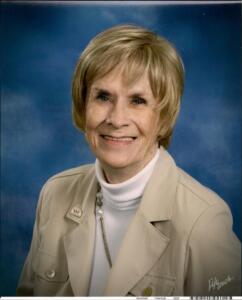 Her name was Patti Cook, and she was the Executive Director of the New Life Society (now known as Transplant Community Alliance). Many of you may know her as a heart recipient, but some of you just knew her as a dear friend. When she was asked why she volunteered with New Life Society, she would say it stemmed from her own experience with transplantation.
For most of Patti's life, she felt pretty healthy. She was a fit and happily married mom who worked hard and played hard. She played golf, volunteered at her church, and kept very busy with life. She was rarely ill and just had ordinary colds and occasionally bronchitis. Then in the summer of 1980, she noticed a thickening in her breast and went to the doctor. She had mammograms; the other breast biopsied and that it was nothing serious but that they would watch it. However, at a check-up in 1981, she got a different story. After having another biopsy, it was established that she had 3rd stage breast cancer. At the time, her daughters were grown, but her son was just 12 years, and her husband was ill. It was difficult for all of them but a life-changer for her son.
She was told it was serious and to get my affairs in order because she didn't have long to live. But she couldn't do that. She had a life to live. Patti recalls, "Truly, I was scared, but I had no thoughts of giving up. I decided to seek a second opinion which turned out to be a great idea! I was given the option, which I took, of getting a mastectomy and six months of radiation and chemotherapy. The results were great – I was cured! "
Several years later, she saw her doctor for what they thought was another case of bronchitis. It turned out that she was not suffering from bronchitis but cardiomyopathy, which is an enlarged heart that functions ineffectively. It was caused by the radiation and chemotherapy treatment received for breast cancer years earlier. Not only had she dealt with breast cancer, but now she was dealing with heart failure and needed a heart transplant! Because of cancer, doctors believed she was a poor candidate and would not live long even if she was allowed to receive a heart transplant. So even though she needed it, she was denied the opportunity. They told her that cancer would take over if she had any cancer in her body due to the immunosuppressant.
That did not sit well with her since she no longer had cancer, so she argued her case for the next 26 hours to anyone and everyone who came into her room, from housekeeping to surgeons. At this point, she was in the ICU on life support and with little or no voice due to her heart being so enlarged it had strangled her vocal cords. At the last hour, a doctor came in and said they had a heart! She was overwhelmed because it didn't seem like fighting was working even though she fought to get the transplant. But it had! Once she agreed to the surgery, the process began. They prepped her, and off to surgery she went. Her next memory is sitting in a chair drinking broth.
She was one of the first people to receive a heart transplant after remission, and she thought a perfect example that transplants work even for those who have had cancer in the past.
What happened is not uncommon. Many women have developed cardiomyopathy after breast cancer treatment, which presented a need for a transplant. Patti encouraged them, educated them, and told them that it does not have to be the end. Like many other recipients, her life was not defined by illness or by transplant. The New Life Society allowed her to help other transplant recipients by providing many programs and support services. She was always grateful to my donor and the donor family for their generous gift and her many extra years of life.