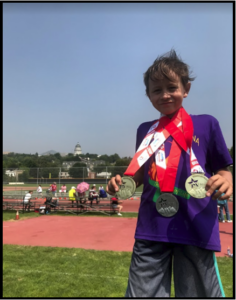 Dylan was 11 years old and in 6th grade when he first competed at the Transplant Games of America.  He was honored to represent Arizona in Salt Lake City.  He came home with a fist full of medals – 2 gold, 1 silver, and a bronze.
More than the medals, Dylan enjoyed meeting and making friends that were just like him.  The other kids could relate to going to a transplant clinic and having frequent lab draws. These kids had the chance to be together in a relaxed environment and just have fun. They could compete in the Games and not worry about medical procedures.  As a result, most of the group became fast friends and enjoyed seeing each other at all the youth events.
Dylan's story almost started as a tragic one, recounts Dylan's Mom, Melissa.  "He was born with a potentially terminal condition, an enlarged heart, which is technically called Dilated Cardiomyopathy."  They were advised that 1/3 with this condition get better, 1/3 stay the same, and 1/3 get worse requiring a heart transplant.  Their first hospital stay lasted a month.  But they were hopeful.
Dylan and Melissa traveled to Children's Medical Center in Dallas, at the time there wasn't a transplant center here in Phoenix.  Dylan struggled to survive for weeks in the ICU.  He was placed on the list to receive a compassionate exception for the Berlin Heart, which had not yet been approved for pediatrics. "When we got word that he was approved, we were thrilled and hoped that the device would be delivered in time to save his life," said Melissa.
"While waiting we were graced to get 'the call' on January 13th, 2009 at 3 am," stated Melissa.  "I called my husband and told him to get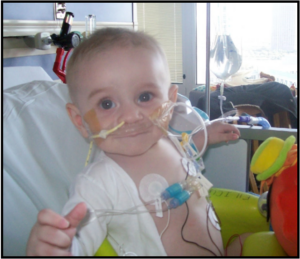 the first flight out of Phoenix." The amazing ICU team gave Dylan a standing ovation on his way back to the Operating Room.
Today, playing sports is second nature to Dylan.  He doesn't particularly prepare or practice for the Transplant Games, because he plays sports year-round.  The prospect of getting a medal makes competing that much more fun.  "This kid loves a medal, said Melissa.  His Transplant Games medals are displayed prominently amongst his wrestling and racing medals.
Dylan is looking forward to competing in the 2022 Transplant America Games in San Diego.
In fact, the entire family looks forward to the chance to participate in the walk/run held before the Games to help raise awareness for the cause.
"We know that Dylan would not be with us today if it weren't for the decision for donation and the medical team that made that donation possible. We walk to honor the many people involved in this miraculous process that gave our Dylan a second chance at life, said Melissa.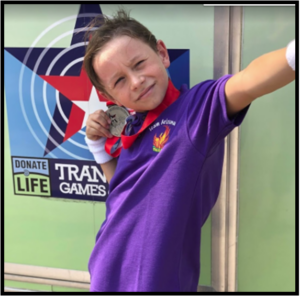 "We never forget that on that day among our joy and relief, there was another family going through the most tragic moment of their life. Who decided in that most horrible of moments to give.  To give life even as it was taken from them."  The family, gifted one of Dylan's medals to
Wyatt's family who they now know and love.  The medal is displayed prominently in their home to celebrate the second life that was possible because of donation.
Transplant Games of America—July 29 – August 3
Registration begins January 14
https://www.transplantgamesofamerica.org